​​​​​​​We work at all levels of dressage. The ethos of DO Dressage is that

all

horses benefit from good flatwork. We work at the elite level of the sport, but also with horses who are not naturally gifted or who do not have comportment that would lend them to high levels of dressage. This does not mean that they do not benefit. For example, Emaro M works at a high level, but we also work with little Trudy who enjoys her work and tries very hard. 
Emaro (Emmy) is a 13 year old KWPN gelding dressage horse (Johnson x Tushinsky). He is scoring well at Inter 1 on the international circuit and working at Grand Prix level at home. He is a delight to work with as well as being an extremely talented and gifted athlete. He is adorable in the stable and is confident, without being arrogant, curious and into everything. He makes both human and horse friends easily! Such a temperament and talent come together rarely and we feel very lucky to have him at DO Dressage. His partnership with Maria has come on leaps and bounds in the last year and the pair are now enjoying well deserved success up to and including at the international level.
Emaro was bred and trained in the Netherlands by Marion von Bommel and is now in the UK working with Maria to further develop his international career under the watchful eye of Vicki Thompson-Winfield.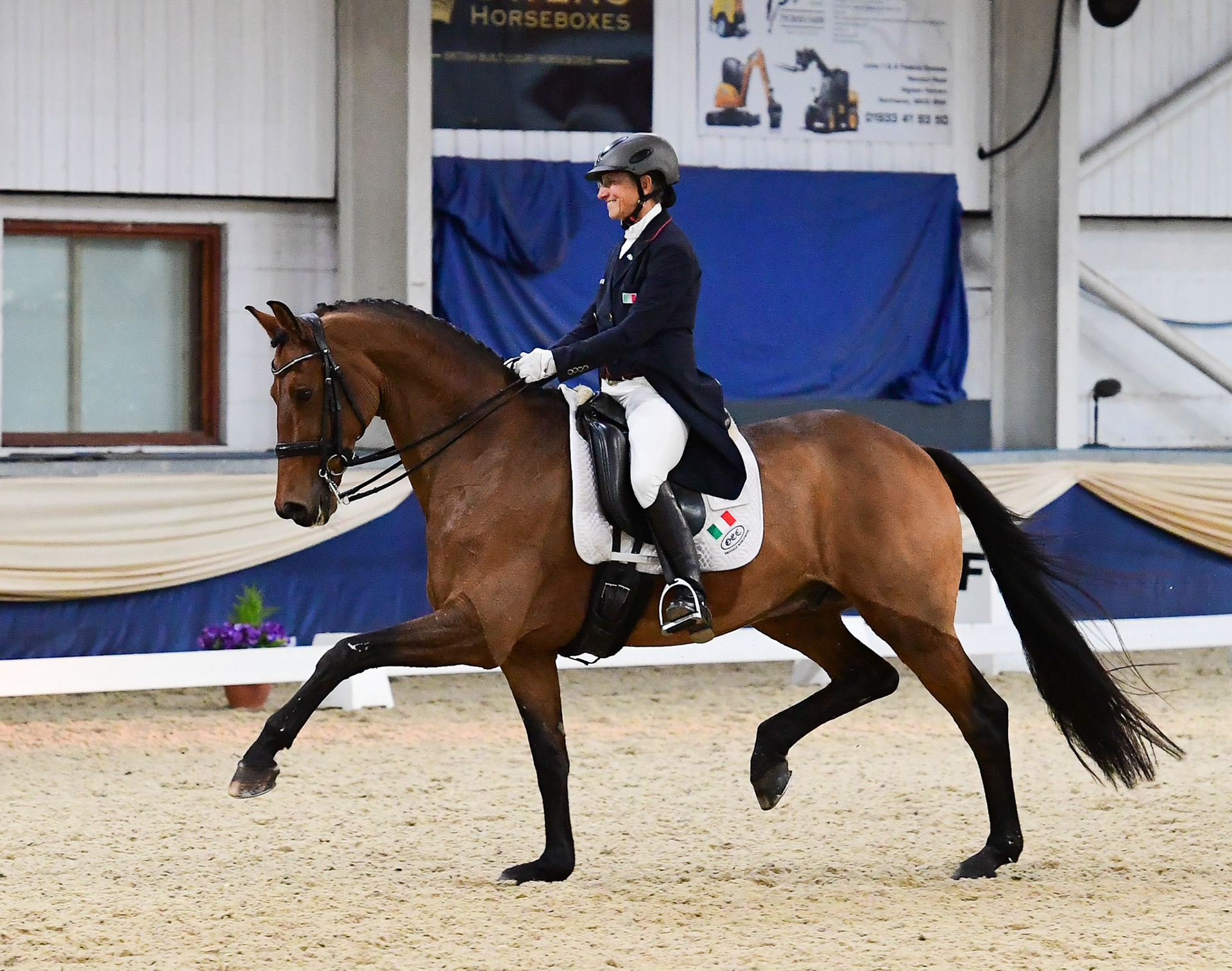 Alles of Niks (Nixy) is a 19 year old KWPN gelding dressage horse (United x Ressort). He came into the UK at 6 years old. He is an extremely athletic horse and moves beautifully; he is currently working at Inter 1 level at home and will shortly go out at PSG to affiliated shows.
Nixy is very proud of himself but, unfortunately, he is a hyper vigilant horse who finds new settings unnerving, and his concentration is not the best. His temperament makes him an extremely difficult horse to manage. However, at DO Dressage we don't give up on horses, so he has been worked at home maintaining fitness and in a strong learning and teaching partnership with Maria, again under the watchful eye of Vicky Thompson-Winfield. We are delighted that this work has got him to a point where we can try him at shows at an advanced level.
Trudy is a little horse of unknown origin, probably trotter cross, with a work ethic to die for and a somewhat challenging conformation! She is 16 years old. Even with her physical disadvantages for dressage, she works well and can produce good movements that benefit her, as they do all horses. In accordance with DO Dressage's ethos, we have worked with her to get her fit, in balance and pleasant to ride. She is currently working towards advanced medium, and it is obvious that she really enjoys her work; you will rarely see a horse look more proud of themselves having completed a session! 
Trudy brings joy and smiles to whoever she meets, equines and humans!! Her best friends are Kenny and Emmy with whom she spends considerable time reciprocal grooming!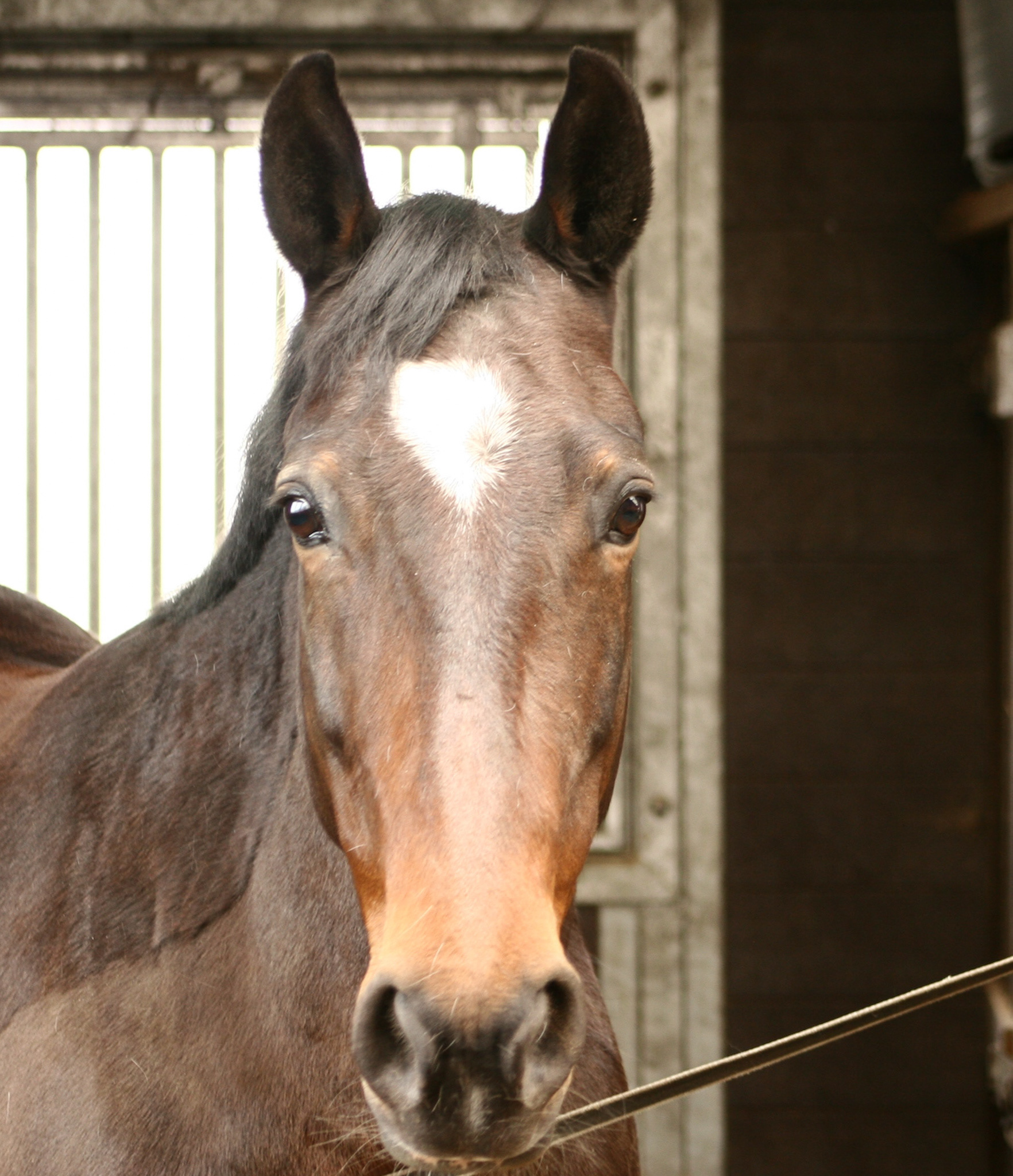 Donny is a 12 year old KWPN ex-showjumper gelding (Campbell VDL x Corland). He is our miracle horse, having survived severe illness in 2020 during which we thought we had lost him. With much love and care he pulled through, but sadly has some lasting damage. He is still in work, and is working towards medium at present. He definitely wins the beauty contest, and is a real crowd pleaser!
Our work with him won't be fast, but we really believe that with good, properly focussed training tailored to his specific needs, he can overcome his problems and enjoy his work.
Kenny is a 24 year old Selle Français (Concorde x Laudanum) retired show jumper. He had a stellar career as an international show jumper, coming second (by a whisker) to Romanov in the Foxhunter final 2005, going on to jump internationally. After retiring from jumping due to injury, he became a dressage horse working well at medium level.
These days our Kenny is an easy going chap enjoying his retirement. He likes food and grooming and food and grazing and food! In other words, if it involves feed, hay or grass, Kenny is happy! We think that after all his hard work he deserves his happy-go-lucky years.
Drunken Sailor aka Sailor
Sailor is a 30 year old Connemara pony, born in Ireland. Sailor worked for many years as a jumping all rounder pony, he went hunting and won many rosettes and championships. Sometimes, perhaps due to his advanced age, Sailor can be grumpy, but he likes to go out and run and shows no signs of slowing down! He likes a good scratch and to be groomed! Even if he is the smallest one on the yard, he makes up for it with his personality.