We have put together a video to celebrate the 2022 season. It has been a great season for Emaro and Maria. In our video, Maria discusses her background and the season in which she achieved numerous personal bests, started riding for Italy and competed in her first international.
Keysoe International CDI3* 7–9th October 2022
Emaro and Maria rounded off their season in style at the Keysoe International CDI3*. Placing 13th in the Inter 1 with 64.3 it was an excellent first international for the pair and a superb end to the season. What a season it has been for them, first Premier League in April to first International in October with so many personal bests along the way. At DO Dressage we couldn't be more proud!
International place confirmed!
FISE (Federazione Italiana Sport Equestri) have confirmed Emaro and Maria's place at the CDI3* at Keysoe in October. Maria will ride small tour - PSG and Inter 1 - in the competition and possibly Inter 1 freestyle!
Bury Farm High Profile Show 26–28 August 2022
Emaro M and Maria had a great show at Bury Farm scoring their highest inter1 mark, their highest mark at a Premier League/High Profile show and placing for the first time! An amazing achievement for the pair in their first season together and at this level for both horse and rider. 
Maria's message is always; it's never too late, never give up on your dreams.
The

highlights video and more photos are on our competitions page.
Maria and Emaro secure their place for their first international!!
Riding at Belmoredean on 28th July 2022 Emaro and Maria secured their place at Keysoe CDI in October. Scoring yet another personal best, this time in inter 1, they made their first CDI a certainty. What an amazing season it has been, from their first Premier League at Keysoe in April to their first CDI in Keysoe in October. Amazing progress!!
NAF 5* Hartpury Festival of Dressage 5th – 10th June 2022
Emaro M and Maria achieved another personal best at Premier League, this time in inter 1! A good show to continue a season of learning and improving. The pair are looking forward to their first international later in the year!
​​​​​​​
The highlights video and more pictures can be found on our competitions page.
Maria is confirmed as an Italian International Rider!
​​​​​​​
We are so happy and proud to announce that today Maria has been officially confirmed as an Italian International rider. This season continues to go from strength to strength as Emmy and Maria get better and better. Maria said: "I am proud to be able to say that if you really believe in a dream you make it reality"
Wellington Festival of Dressage 
7th – 12th June 2022
Emaro M and Maria achieved a Personal Best in PSG and at Premier League at the dressage festival at Wellington Riding! They had a great show, also increasing their level to inter 1, where they showed promise and held their own. This pair are having a great first season in Premier League, raising their level and learning a great deal. 
​​​​​​​
The highlights video and more pictures can be found on our competitions page.
(Photographs by Lottie Elizabeth Equestrian Photography)
Hickstead Dressage Festival 12th – 15th May 2022
Emaro M and Maria continued their journey into the Premier League tour with two PSG tests at the Hickstead All England Showground. Maria's trainer said that the pair had come a long way and held their own with the best at the show. The standard around them keeps rising and they are meeting the challenge. 
The highlights video and more pictures can be found on our competitions page.
(Photographs by Spidge photography)
Keysoe International: British Dressage Premier League
29th April – 1st May
Emmy and Maria stepped up and stepped out at Keysoe International in their first British Dressage  Premier League show. It's a big step and there was a lot to like as well as a lot to learn. Our story is always about a woman's dreams and the hard work of getting there, and the work goes on! Maria said she finally felt at home! To have raised their game to this level is fantastic, it is such an exciting season for the pair.
The highlights video and more pictures can be found on our competitions page.
(photographs by Kevin Sparrow)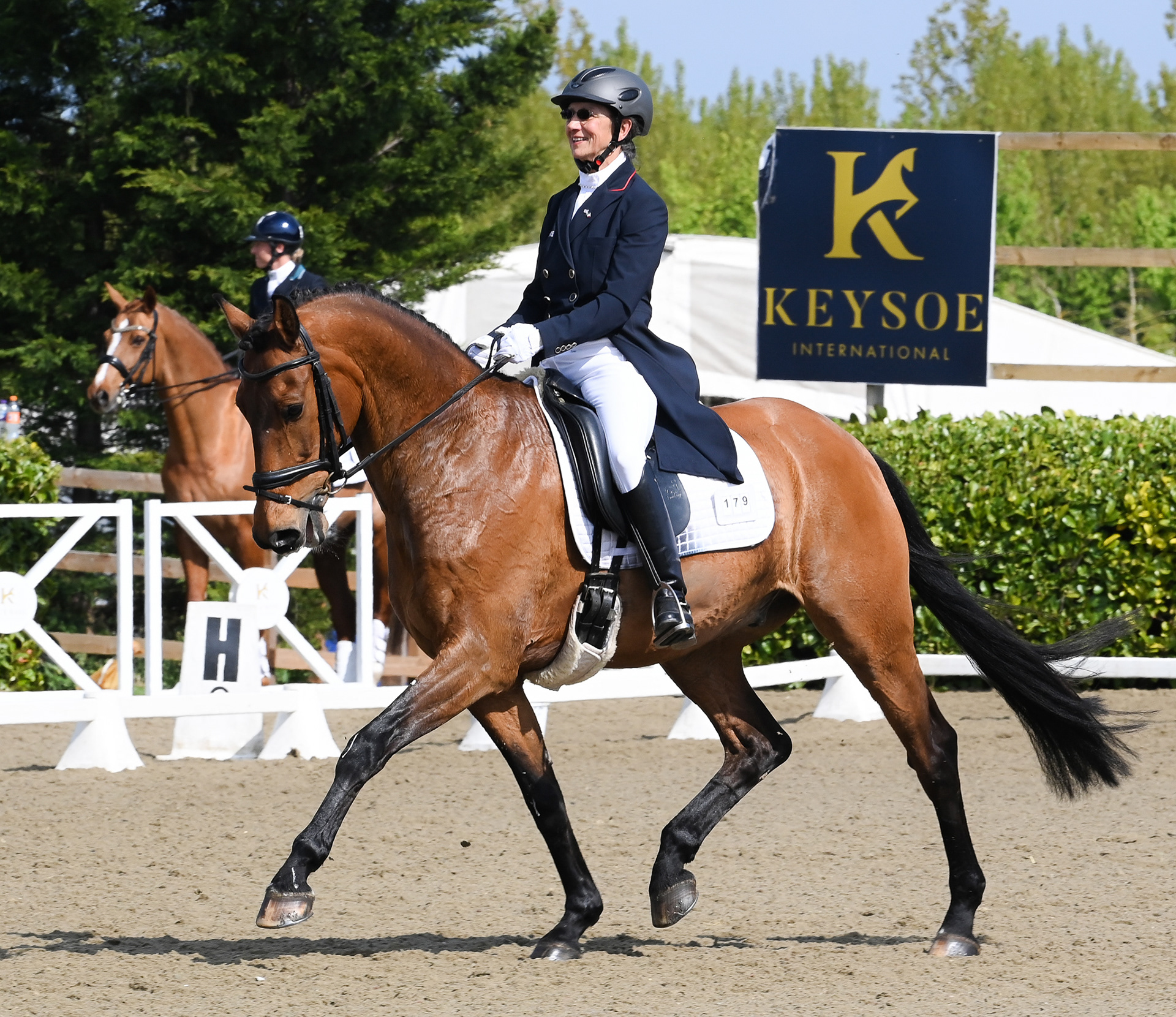 Golden Cross 9th April 2022
Another first for Emmy and Maria, this time at Golden Cross Equestrian Centre. They came first in class and second overall! The pair continue to build towards more challenges later in the year ... the hard work continues!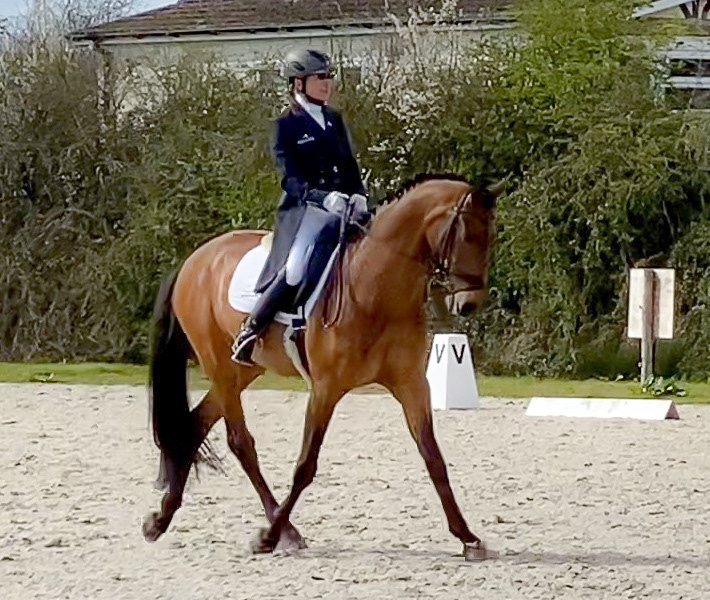 April 2022: Maria is taking on new clients for training!
As well as being a professional dressage rider currently riding at PSG level premier league, 

Maria is 

a BHS Accredited Professional Dressage Coach level 5. 
She teaches adults one to one and she can coach a session with up to four riders. She also teaches younger riders who are keen to advance through the levels of dressage. 
She can either come to you or you can bring your horse to her in East Sussex (though numbers are limited). Please use the contact form to get in touch with Maria about training.
Belmoredean 24th March 2022
Emmy and Maria have completed their first FEI Prix St. George test. They scored well, coming first in their class and second overall, a result to be proud of! Maria said: "I feel really at home! It is good to score well and know that we can improve, so the sky's the limit!"
The pair are looking forward to more PSG tests in April and May. They earned themselves the opportunity to advance later in the season, but for the next few months Team DO will concentrate on success at this level.
More pictures and the highlight video are on our competitions page!
Belmoredean 10th February 2022
Emmy and Maria started the new year in style with a win at Belmoredean having moved up a level from last year. She and Emmy performed well, doing everything they needed to get all they needed to progress during 2022. Maria said "Every time we go out I learn something new. Emmy is magic!"
Manella trains with Vicki Thompson-Winfield who was pleased with the performance describing it as the first big milestone for the pair who have come a long way in a short time.
For more pictures and to see the highlight video, go to our competitions page!